Domenico Bianchi, Nunzio: 11 September – 2 October 2021
Slewe Gallery is pleased to announce the upcoming exhibition with new works by two Italian artists Domenico Bianchi (*1955) and Nunzio (*1954). The exhibition opens Saturday September 11 and will run until October 2, 2021.
Domenico Bianchi is known for his paintings made with his own developed technique of mixing wax and oil paint, sometimes combined with Palladium leaf. His images with a perpetuum mobile motive derive from computer program stills. Bianchi, born in 1955, lives and works in Rome. He studied at Fine Art Academy in Rome. His career started in 1977 with his first solo show at Ugo Ferranti in New York. In the eighties he became known as one of the emerging artistst of the so-called La Nuova Scuola Romana and exhibited his work alongside Arte Povera artistst such as Kounellis and Mario Merz. He had his first show in the Netherlands at Riekje Swart in 1980. Several European museum made solo shows of his work, such as at the Stedelijk Museum in 1994, and at MACRO in Rome in 2003. He participated in several Venice Bienials, in1993 as a solo artist. Since 1998 he shows regularly at Christian Stein in Milan. Slewe Gallery shows his work since 2009.
Nunzio is known for his abstract works made of lead. Nunzio di Stefano was born in 1954 in Cagnano Amiterno, L'Aquila. He studied at the Fine Arts Academy of Rome, taking his diploma on the course held by Toti Scialoja. In 1973 he set up a studio at the former Cerere Pasta Factory, in the Roman quarter of San Lorenzo, where Bruno Ceccobelli, Gianni Dessì, Giuseppe Gallo, Piero Pizzi Cannella and Marco Tirelli would also work. After his first solo show in 1981, at the Galleria Spatia in Bolzano, in 1984 he exhibited large size sculptures in plaster at the Galleria L'Attico in Rome. Works in plaster and burnt wood were brought together in 1987 for a solo show held at the Galleria Civica in Modena. In 1995 Nunzio was invited to the Venice Biennale with a personal room that received Honourable Mention. Since then he exhibited worldwide. Nunzio currently lives and works between Rome and Turin.
Karel Appel, Horizon of Tuscany: 24 April – 27 June 2021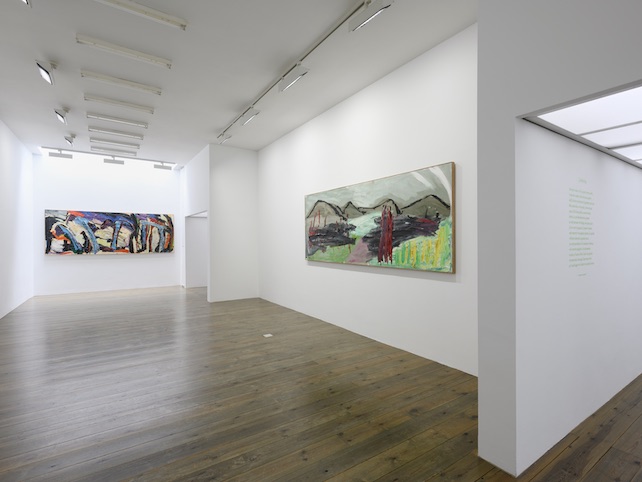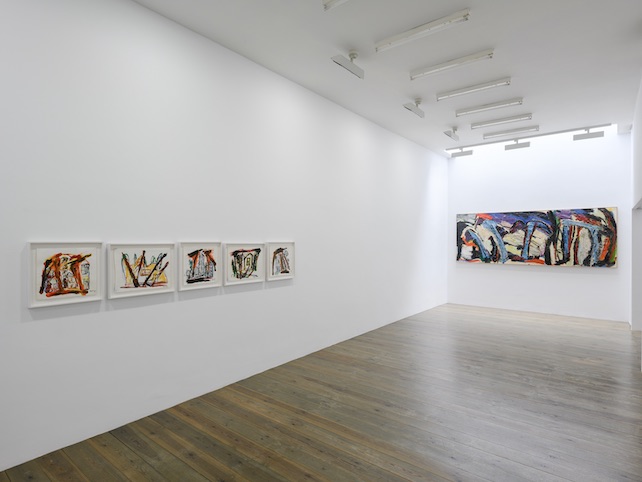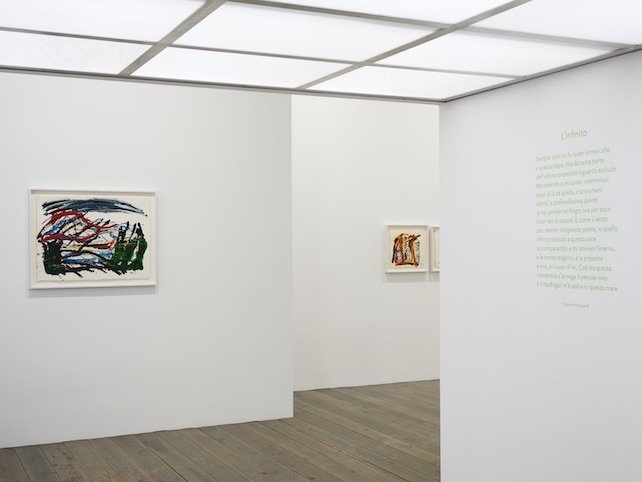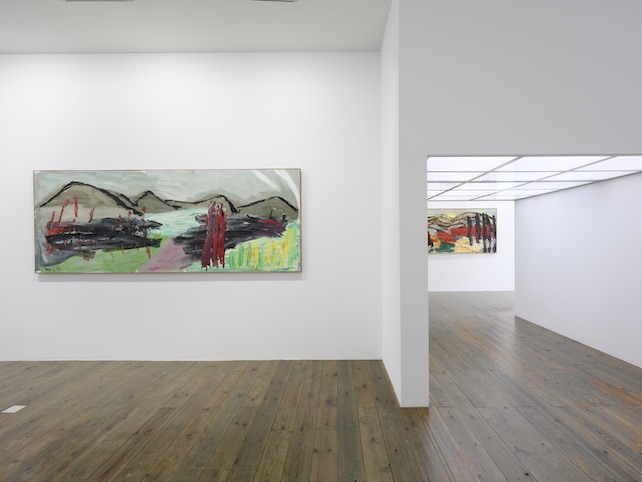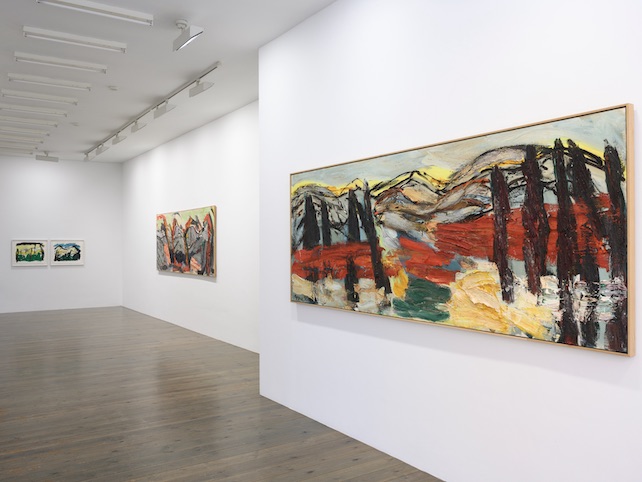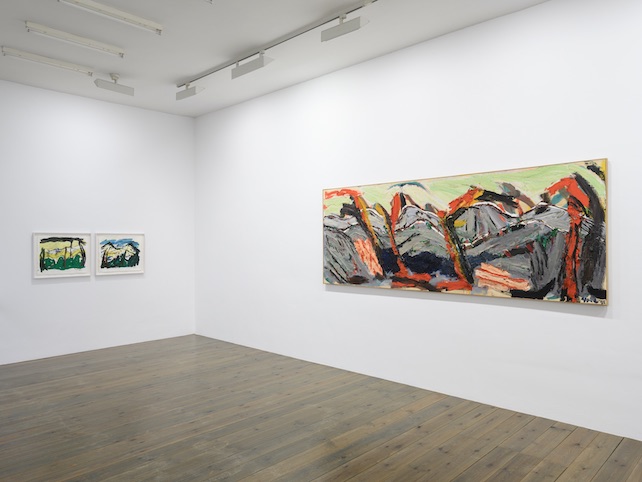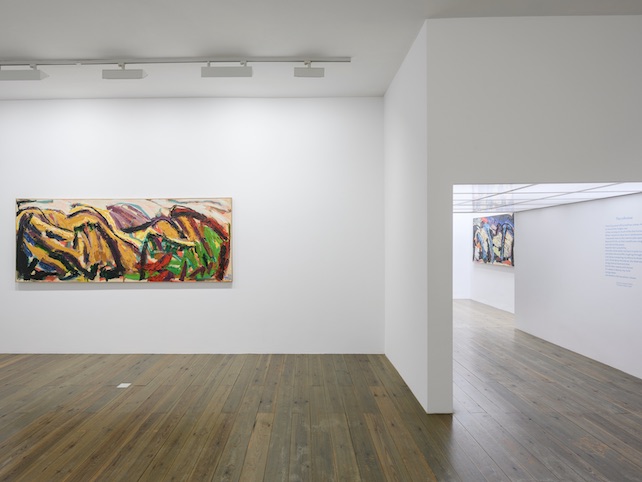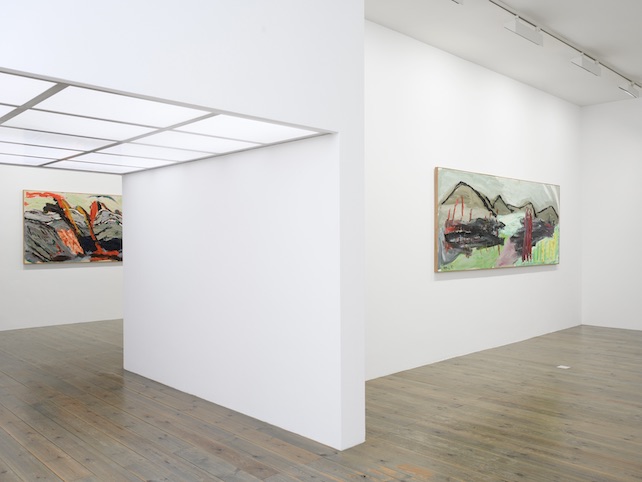 This year it is 100 years since the birth of the most famous post-war Dutch artist, Karel Appel (1921–2006). To mark this occasion, Slewe Gallery is pleased to host Horizon of Tuscany, an exhibition of work by Appel. This will open during the weekend of his birthday, April 25, and the works will remain on view until June 27, 2021. The exhibition has been arranged by Rudi Fuchs, the former director of the Stedelijk Museum and a close friend of Karel Appel, and organised in collaboration with the Karel Appel Foundation. It will be accompanied by a catalogue, designed by Rutger Fuchs. Also, you can listen to a conversation between Harriet Appel-de Visser, Appel's widow, and Robert van Altena on this exhibition here.
The exhibition will show a selection of five paintings from Appel's Horizon of Tuscany series from 1995, when the artist was 74 years old. The works all have an elongated format, measuring 115 x 300 cm, and are in the artist's late style. In the nineties, Appel, known for his baroque expressionist painted figures and nudes, concentrated on the landscape as a subject. This was a motif he had not previously explored in such depth. Living in Tuscany at the time, he started to paint a number of landscapes 'after nature', featuring the hills and cypresses around the house. The motifs of trees and hills are absorbed into an all-over pattern of rhythmically applied brushstrokes. A waving, pulsating surface arises, like a colourful tapestry. In addition to these paintings, some works on paper based on the same theme and from the same period will be on display.
Appel's late-style works have been receiving increasing international interest, with exhibitions at Blum and Poe in Los Angeles, Max Hetzler in Berlin, Jahn und Jahn in Munich and Almine Rech in Paris. Slewe Gallery has previously shown Appel's work in 2011, in the exhibition Couplet 7, curated by Rudi Fuchs, and in 2016, with a group of abstract paintings from 1978–1980, entitled Reset. The forthcoming exhibition, Horizon of Tuscany, at Slewe Gallery is part of a series of activities to mark the 100th anniversary of Appel's birth. The celebrations started at Galerie Max Hetzler in Berlin with an exhibition of his sculptures; this summer Jahn und Jahn will publish a catalogue, entitled Karel Appel, Collages from 1957–1968; and in September EenWerk in Amsterdam will show two of his object paintings from the eighties.
Michael Jacklin, Various Thoughts: 6 March – 10 April 2021
Slewe Gallery is pleased to announce the opening of the exhibition Various Thoughts by Dutch artist Michael Jacklin (*1956). The exhibition will show some new works. It opens Saturday 6 March and runs until 10 April, 2021. Due to the Corona regulations there will be no special opening. You can visit the the exhibition by making an appointment in advance from Wednesday to Saturday from 1 to 6 pm.
Michael Jacklin is one of the rare fundamental working sculptors of his generation. He focuses on the specific qualities of the material as well as on the sculptural principles such as mass, rhythm and gravity. Since 1984 he works exclusively with iron. His preference for this material derives from his fascination for iron constructions in bridges and architecture. The last few years most work are made of either staff iron or iron plate. With basic forms, such as cubes, boxes and spheres he builds up an open grid like construction. A subtle play of lines and intervals occurs when you move around them.
Jacklin exhibits at Slewe Gallery on a regular base since 1995. In 2010 Slewe Gallery published a catalog with an overview of his work. In 2019 his work was included in the exhibition Negative Space at ZKM in Karlsruhe and in 2017 some of his large monumental works were shown at Art Zuid, a biennial outdoor sculpture route in Amsterdam, which was curated by Rudi Fuchs. In 2002 he had an exhibition at the Stedelijk Museum Amsterdam and in 2000 at the Kunstvereniging Diepenheim. This coming September there will be an exhibition of his work at Galerie LUMC in Leiden. His works have been collected by several public collections, such as the Stedeijk Museum Amsterdam, Museum Voorlinden, Wassenaar, ABN AMRO Art Collection and AkzoNobel Art Foundation, as well as many private collections. He has also done several public commissions in Rotterdam, Amstelveen and Gemeente Haarlemmermeer. Jacklin lives and works in Amsterdam.
Jan Roeland, Selected Works: 20 January – 27 February 2021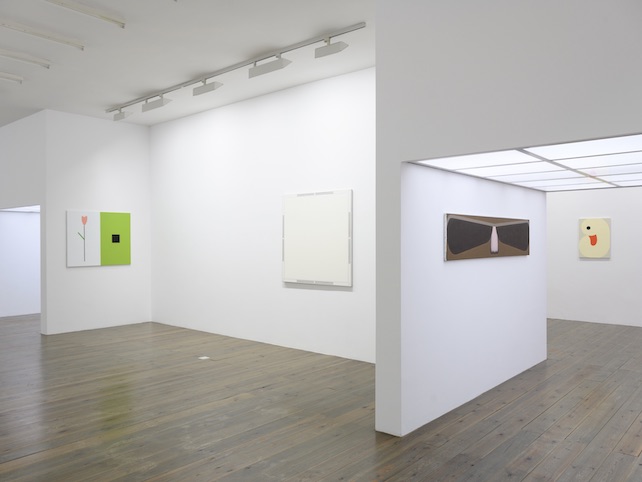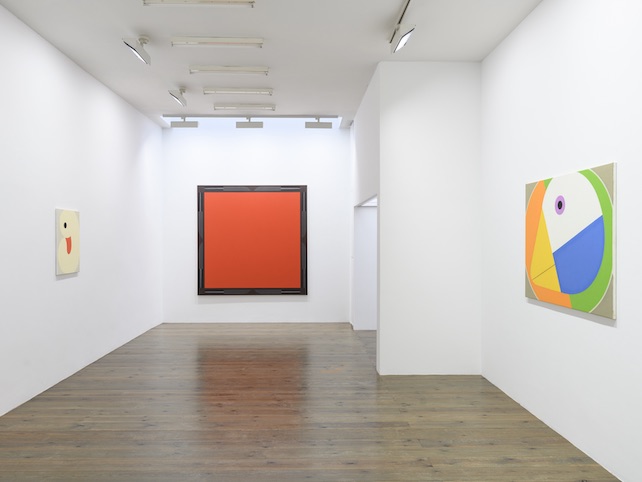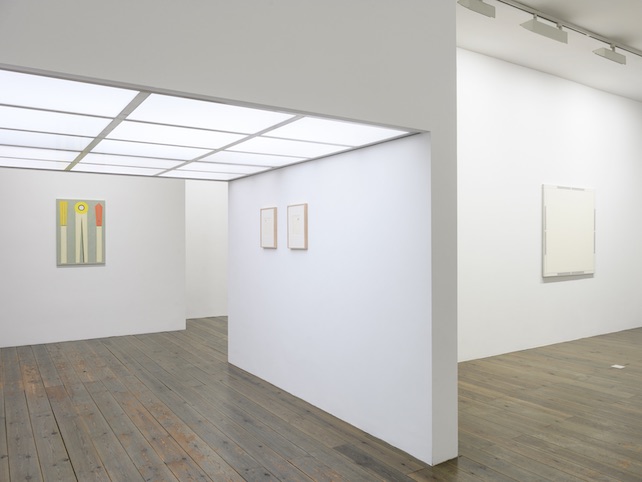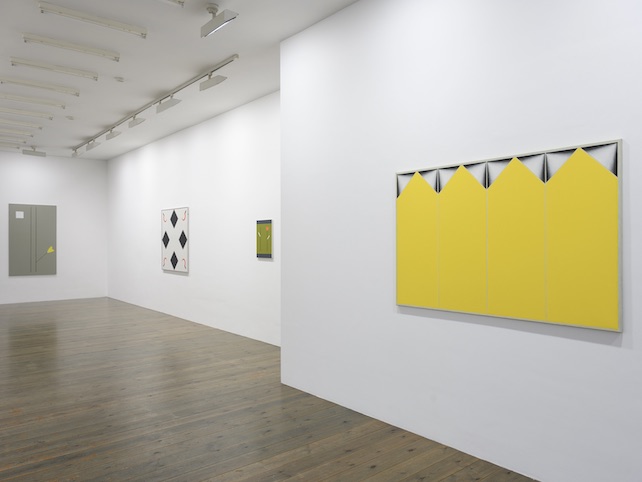 Jan Roeland, Compositie met vier sikkels, 1978, oil on linen, 120 x 120 cm
Jan Roeland, Compositie met bloem en vierkant, 2014, oil on linen, 170 x 100 cm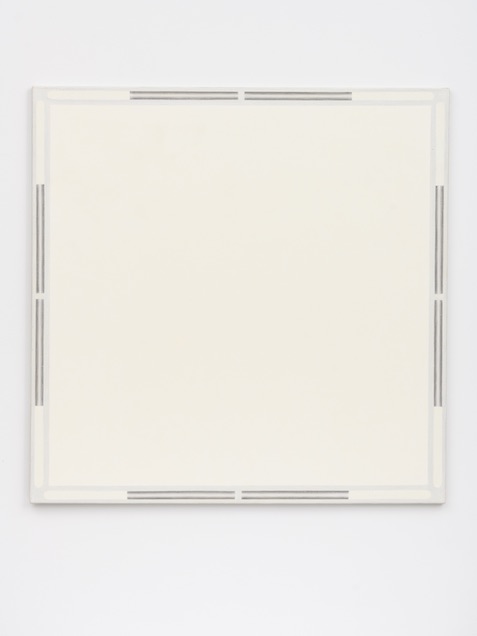 Jan Roeland, Compositie met acht messen, 1879, oil on linen, 120 x 120 cm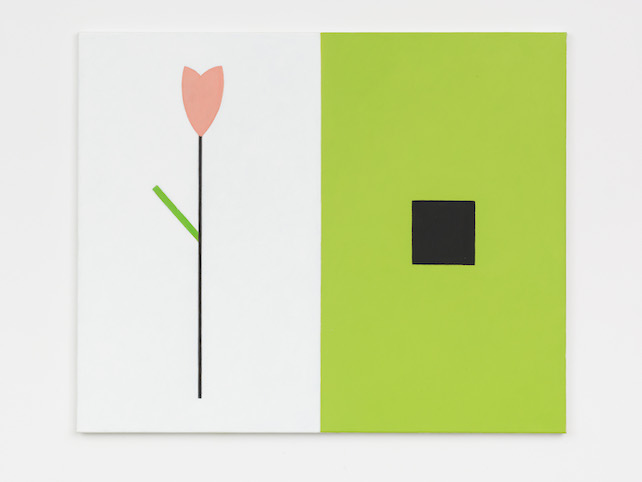 Jan Roeland, Compositie met bloem en vierkant, 2014, oil on linen, 90 x 110 cm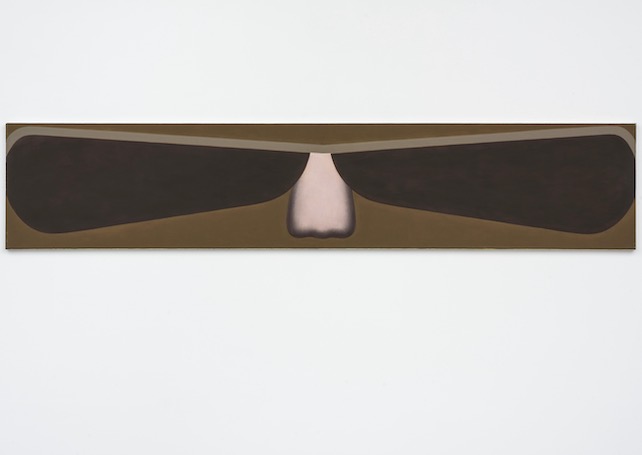 Jan Roeland, Neus en bril, 1997, oil on linen, 40 x 210 cm
Slewe Gallery is pleased to host the exhibition with selected works by Jan Roeland, who passed away five years ago. The selection of works includes paintings through the years, with boxes and tables from the seventies and knifes and cones from the eighties to his last motifs of single flowers and branches. It shows the astonishing consistent and varied artistic development of a Dutch master painter. Due to the Corona regulations the show will be on view online only or by appointment until February 27.
Jan Roeland (1935-2016) has built up an oeuvre of paintings which moves between geometric abstraction and figuration. Recognizable simple motifs of everyday objects, such as hammers, toy-aeroplanes, plants and ducks give his formally built up abstract painting some sense of humor. His paintings are precisely constructed and built up with several layers of oil paint, in which color plays an important role. The relatively small formats of his canvases fit in the old Dutch tradition of Easel-painting.
Roeland started exhibiting after his study in 1965 and since 1969 regularly at Galerie Espace. In 2001 he started showing at Slewe Gallery. He lived and worked in Amsterdam during his whole life and passed away at the age of 81 in 2016. His work has been collected by several museums, such as the Stedelijk Museum Amsterdam, Van Abbemuseum, Eindhoven, Rijksmuseum Twenthe, Enschede, Stedelijk Museum Schiedam and Schunck in Heerlen. In 1997 a comprehensive catalog had been published, overviewing more than 25 years of his work, with texts by Elly Stegeman, K. Schippers and Anna Tilroe, along a travelling exhibition of his work at the Beyerd in Breda, Stedelijk Museum Schiedam and Rijksmuseum Twenthe, Enschede. In 2007 another catalog has been published along a solo show at the Stadsgalerij Heerlen, with texts by Tijs Goldschmidt and Jan Andriesse. In 2010 he had an exhibition at the Hedge House in Wijlre, near Maastricht. After his death the Kunsthal Rotterdam organized an overview of his work in 2017, including a catalog published by Waanders. In 2019 another selection of works by Roeland was on view at the Stedelijk Museum Kampen.