About / History
Slewe Gallery was founded by Martita Slewe in October 1994. Situated in the centre of Amsterdam its internationally orientated program is focusing from its start on, though not limited to, new tendencies in abstract art, mainly painting. The gallery space has been designed by Herman Postma. On average seven solo exhibitions are mounted yearly. Sometimes an accompanying catalog is published, designed by Irma Boom, who is responsible for all graphic design of the gallery. In 2004 a catalog has been published, documenting 10 years Slewe. Since 2009 the gallery started to organize yearly a special curated show. The gallery also initiated a series of artist' interviews on video by art critic Robert-Jan Muller.

Slewe Gallery has participated in many international art fairs such as Art Basel Miami Beach, Art Brussels, Art Rotterdam, ARCO Madrid, Art Forum Berlin, Fiac Paris and Art Cologne.
About / Website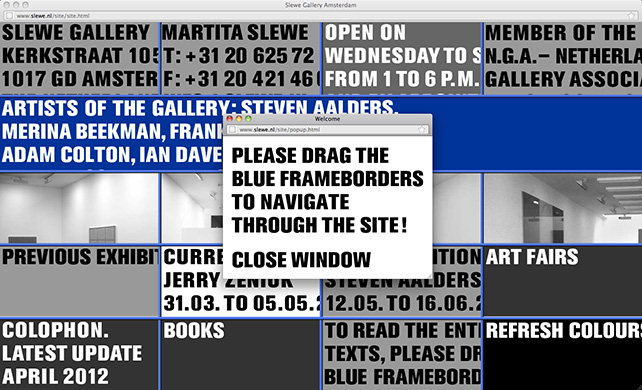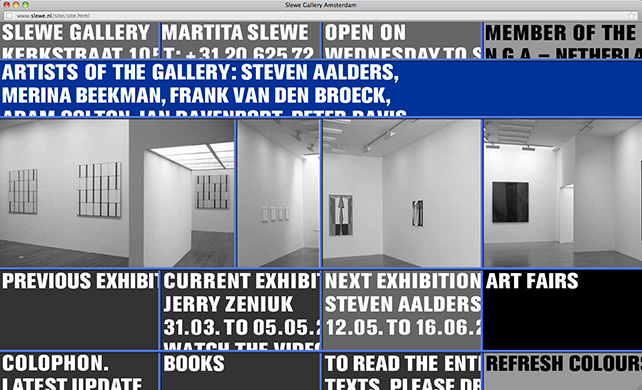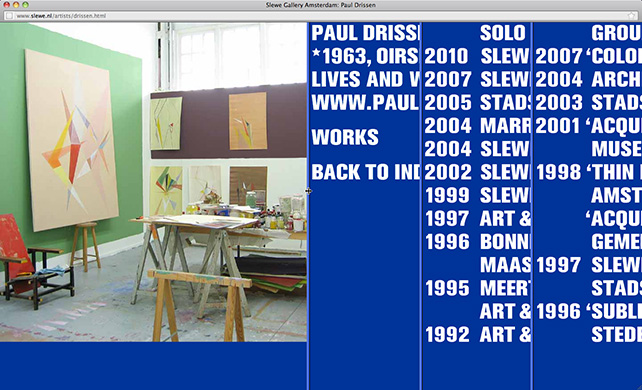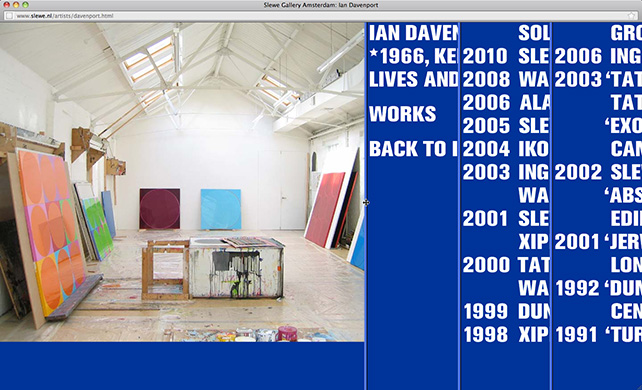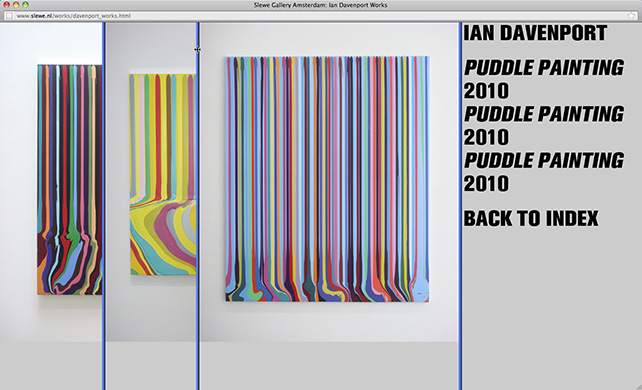 The first version of the gallery's website regarded web space as a virtual extension of the physical exhibition venue. It allowed entering the gallery space in a different way than with traditional websites and used navigation as an essential part of the user's information experience.
The website's appearance was characterised by the reduction of colours to a small spectrum of greyshades. Only artists-related pieces of information were highlighted blue. Frames structured the site into a grid of horizontal and vertical information cells, the readability of which depends on their respective size. It was the user's task to enlarge the different cells by interaction, to complete content and make links visible.
In 2004 www.slewe.nl has been awarded the red dot: best of the best and nominated for the red dot: junior prize award.